Flexible Circuits & Circuit Assemblies
Leading supplier to the automotive and electronic industries
Specialists in antenna and occupancy seat sensors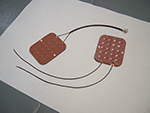 Elecmec is a leading supplier of copper foil based flexible circuits, antenna and occupancy seat sensors.
Laser cutting and lamination techniques allow us to easily tailor the size and features of the flexible circuits and antennas.
Our encapsulation / over moulding, cable preparation and assembly facilities allow us to supply a fully featured circuit or antenna assembly to suit any requirement.
Circuits can be populated with both through hole and surface mount components including LEDs and micro switches.
A range of flexible film automotive antennas are manufactured to suit a variety of signals DAB, FM, GPS etc. or a combination of functions in one antenna.
Our circuit assemblies and antennae can be found performing on some of the worlds most prestigious vehicles including Bentley and Jaguar.

We also offer robust and reliable seat occupancy sensors in three standard sizes to allow tailoring to fit a wide range of applications for automotive and general machinery such as JCBs, fork lift trucks and lawn mowers. The sensors can be provided with integral wiring for connectivity and where appropriate multiple sensors of the same or different size can be interlinked by flexible wiring to increase the sensing area and sensitivity.
Call us on
0115 837 7101
if you require any advice about your specific needs
Other products that we offer