Rigid Circuits & Circuit Assemblies
Capability to utilise fully automated, semi automated or skilled manual processes.
We can assemble low, medium or high volumes.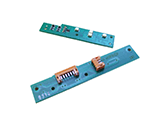 We supply rigid circuit boards in a variety of materials and sizes assembled with a wide range of surface mount and through hole components including micro switches utilising fully automated surface mount placement / soldering, semi automated and skilled manual processes.
Through hole and surface mount connectors, flying leads and other interconnect systems can be incorporated into the assembly to provide connectivity.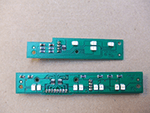 Elecmec are able to assemble surface mount LEDs to the boards and fully electrically / functionally test for light output (colour and intensity) to ensure 100% functionality. Our LED's circuit assemblies are in use on Land Rover Discovery vehicles illuminating the auto-gear shift display.
Low, medium and high volumes can be assembled on our automated surface mount processes.
Call us on
0115 837 7101
if you require any advice about your specific needs
Other products that we offer